Wednesday, October 21, 2009
Is Sarbanes-Oxley Unconstitutional?
When I was an in-house attorney at a publicly-traded company and was faced with the task of bringing my company's internal controls in line with the requirements of Section 404 of the Sarbanes-Oxley Act, I can remember debating with one of our senior executives (who was also a lawyer) whether Sarbanes-Oxley was constitutional.

The debate was whether our company avoid the outrageous expense involved with Section 404 compliance and, when challenged, make the argument that the law was unconstitutional. While this was an interesting debate it would not have made sense for the share price (of course) so we did what everyone else did, documenting our controls, completing an internal assessment and receiving a positive a review from our outside auditors.

But was my colleague right after all? It seems that the Competitive Enterprise Institute (and some others) have brought a suit challenging the constitutionality of the Act under the "appointments clause" of the Constitution. The "appointments clause" requires the President to make appointments with the approval of the Senate. The challenge to the Act rests on the argument that the members of the Public Company Accounting Oversight Board (or PCAOB) are not subject to Senate review and confirmation and their appointment, therefor, is unconstitutional.

The Plaintiffs lost on a motion for summary judgment and their appeal was rejected by the Court of Appeals, bringing their current appeal to the Supreme Court.

Just yesterday, the CEI announced that three former U.S. attorneys general had authored amicus briefs in support of its position. The three amici were Richard Thornburgh, Ed Meese and William Barr.
10:43 am edt
Tough Times
President Obama's "
presidential approval index
" (the difference between the number of "strongly approve" versus "strongly disapprove") now sits at -13, just one point above its lowest reading ever and now running six days in a row at double-digit negative, according to the Rasmussen polling firm.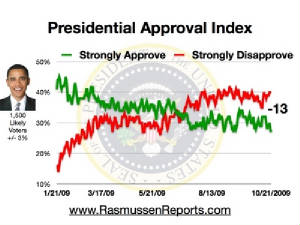 9:38 am edt
Thursday, October 8, 2009
Georgia Supreme Court Hears Challenge to Tort Reform Bill
The Georgia Supreme court was asked on Tuesday to rule on the constitutionality of a Georgia law demanding evidence of "gross negligence" on the part of emergency room doctors in order to sustain a medical malpractice claim, according to the Fulton County Daily Report (paid subscription required).

The challenged provision was part of Senate Bill 3, the comprehensive tort reform package passed by the General Assembly in 2005.

The case stems from a 2007 trip to the emergency room of Columbus' St. Francis Hospital by Carol Gliemmo, whose husband called an ambulance when she felt a "snapping" in her head and pain behind her eyes. Without ordering a CT scan, ER doctor Mark D. Cousineau diagnosed Gliemmo with a headache caused by stress and high blood pressure and prescribed Valium. Gliemmo, then 59, continued to complain of excruciating pain and was treated for high blood pressure and released, according to court documents. Two days later she had a stroke that left her partially paralyzed. rt

9:11 am edt
Jobless Claims Hit 10-month Low
Some
good news
from the labor market this morning as new jobless claims hit 521,000, the lowest level since January 2009.
8:41 am edt
Friday, October 2, 2009
Judi Gerhardt on EmpowerMe Radio
Judi Gerhardt, the proprietor of Career Fashion Consignment, is
appearing today
on the EmpowerMe radio program with Adrienne D. Graham. Judi is a provacative business owner with views that cut across business and political faultlines. Check out her interview.
8:45 am edt
Biobutanol: A Renewable Fuel Solution
Our sister publication,
Renewable Energy Memo
, is
covering
the biobutanol developments of
Gevo
, a company focused on the commercialization of butanol from cellulosic feedstocks.
Butanol offers a number of advantages in comparison to ethanol and Gevo's retrofit alternative may make it possible for struggling ethanol producers to switch to butanol to enjoy the higher prices that product can bring.
8:41 am edt